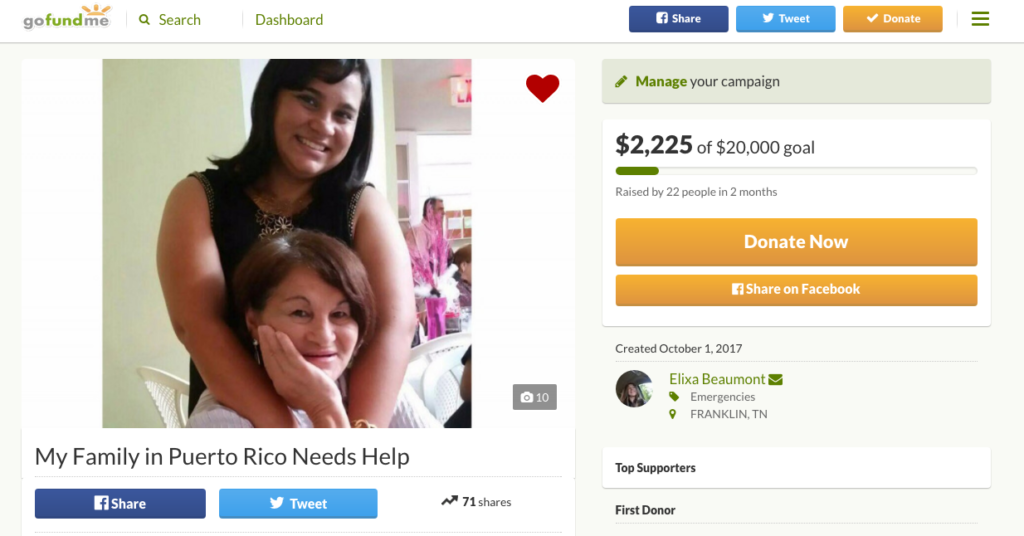 Everyday there are reports on the news that include a 'GoFundMe' –  a page where people try to raise money online for themselves or others.
I've run a few campaigns – for myself and others needs. The latest is a fundraiser-in-progress for a family in Puerto Rico.
Here's a few basic steps to set up a GoFundMe that go beyond just 'setting up a page':
To start, you will need an email address, your bank account routing and account number, cell phone, address, phone number, and about 10 minutes to set up an account.
You will need to verify your email address and phone number via text message.
You will need to continue is 2-3 compelling paragraphs with a story that motivates to donate.
Once it's all set up you will need to do many many updates on GoFundMe and Facebook, send out a slew of emails (not too many but enough), and keep posting updates on Facebook, GoFundMe, and follow up to reach your goal, hourly if the need is great enough. Unless it goes viral, GoFundMe is a way to collect money but you will still need to ask people to give. It's important to post 'asks' and 'updates' on all social media frequently especially of no one is giving, but to also post updates every-time someone gives. Tag them so people they know see it and thank people through GoFundMe so that it appears on their walls for others to see and give. Ask donors to re-post and ask others to give. Endorsements are critical.
It's important to keep updating your GoFundMe and be clear and concise with your story. If it is socially relevant (a fire, theft, or medical care), you may also wish to do press releases to local news stations, radio, and internet outlets.
Remember – Email People, Text People and Call People with your GoFundMe link, and Post Updates on all Social Media – every hour if necessary – that is the key to success!